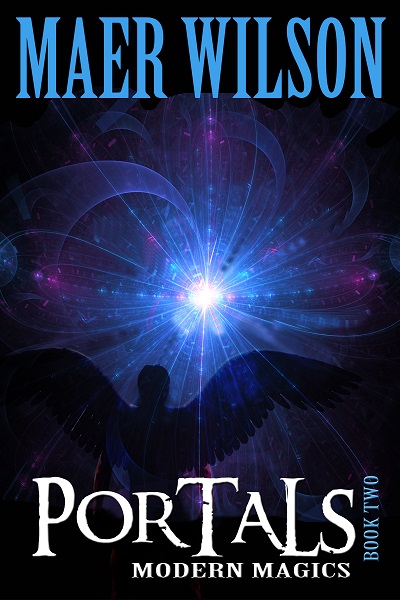 Portals
For supernatural detectives Thulu and La Fi, "normal" is a relative term. La Fi is a medium, Thulu is a finder, and their usual clients are already dead. But when their friend Reo is shot, and a group of stranded angels shows up at their house for help finding a missing child, things are striking too close to home. And the portals that let the magical races return to Earth are opening on their own. With trips off-world, a kidnapped psychic and changes to their own abilities, Thulu and La Fi are hit with a lot more than they usually handle. Of course, their magical friends are there to help, but even they may not be enough to save an increasingly unstable Earth.
Portals
is the cross genre (Sci Fi/Urban Fantasy) sequel to
Relics
and is Book 2 in the
Modern Magics
series.  
Portals can be found at these retailers:
Excerpt from Portals:
It took a while to make our way through the chaos, doing our best to avoid the slashes from swords and daggers. I could barely breathe from fear. A daemon appeared before us, his sword raised to strike down at us. Thulu moved closer to me, doing his best to shield us with his backpack. The blow never came, as the tip of a sword grew from the daemon's chest. His body crashed to the floor, and we skirted it on our way forward once more. Our heavy backpacks caused some issues as we traveled across the room, but after that episode neither of us was willing to drop them.
The screams of the injured and dying tore at my heart, but we finally saw glimpses of the portal. The portal was still ours. Dhavenbahtek and a few guards were fighting off the other daemons, as they tried to pull people closer and shove them through the portal.
As we made it to the platform, Dhavenbahtek saw us and immediately moved to pull us forward. I took a quick look around the room and saw that most of the fighting was now between daemons. I saw no Light Ones standing and hoped most had gotten through. A few elves were moving toward the portal. I caught sight of wings in their midst and realized they were guarding a Light One child.
More daemons appeared, but whose side they were on, I had no idea. Since the number of people had greatly thinned out as they'd gone through the portal, visibility became much easier.
I heard an unearthly scream again as Satorah saw she had a clear path to Dhavenbahtek. She held a dagger in her hand and flew toward him. He held a sword so big I couldn't have lifted it. Her hatred blazed through her eyes. Dhavenbahtek spared a moment to sweep Thulu and me through the portal. My last glimpse was Dhavenbahtek blocking the portal, just as Satorah reached him.
Thulu and I tumbled out onto hot sand, our heavy backpacks dragging us off balance. Hands quickly reached to help us up, and we were still sorting ourselves out when the group of elves came through with the Light One child. They fell through the portal, and we scrambled to get out of the way. The heat was incredible, and the light from the sun was weird, but I didn't have time to do more than note it.
We waited for several long moments. At last, Dhavenbahtek came through, bloody sword in one hand. My relief at his appearance was short-lived.
Two things happened almost simultaneously that cause me to cry out.
I stared in horror as I saw the dagger protruding from his chest, just as the portal behind him flickered several times and disappeared. Yeah, that same portal that supposedly never closed.
Read on for more and to enter the giveaway. Grand Prize is a Kindle...