Welcome to the Official Blog Tour for
Simon
by V.A. Dold! This bestselling author is heating up the Paranormal scene!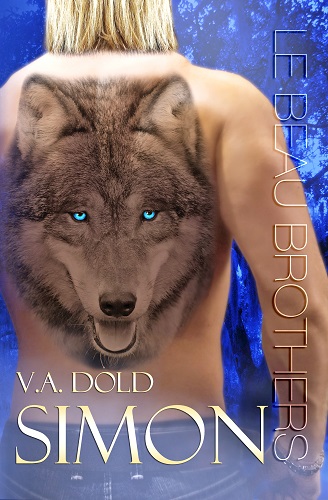 Simon
NOTE: Complete novel. No cliffhanger. Dual POV. Rated 18+ for language and strong sexual content. Four years of honorably serving his country has left Simon, Cade's younger brother, damaged and trapped in wolf form. Little did he know the only person with the ability to heal him completely would be found at home. Literally. Now that he's found her, he is desperate to claim her. Rose is a beautiful, voluptuous woman with limited experience with men. Although she's confident, she still has reservations. Never having a family of her own, her fear of abandonment has her fleeing romantic relationships, and doubting herself. Travis is insane. A deadly loose cannon that a secret organization hired to destroy the Le Beau family by denying them their mates. Permanently. Simon's dream will be lost forever unless he is able to maintain human form. Rose needs unconditional love and a mate to create the family she's always wanted. Travis's all-consuming drive is to take Rose for himself. Will Simon ever be whole again, able to claim his mate, giving Rose the love and family she so desperately craves? Or will Travis destroy them both?
You can buy Simon: Le Beau Brothers: New Orleans Shifters (Le Beau Series Book 2)
at Amazon.
Read on for about V.A. Dold's Paranormal series!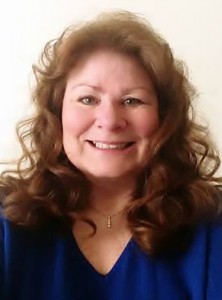 V.A.Dold is the bestselling author of the Le Beau Brothers series, New Orleans wolf shifter novels. A graduate of Saint Cloud University, she majored in marketing. Prior to becoming a full time writer, she was a publicist to the authors, owning Innovative Online Book Tours and ARC Author & Reader Con's (ARC NOLA) (ARC Phoenix). Still is. The companies mesh so well together, much like PB&J. Her idea of absolute heaven is a day in the French Quarter filled with nothing but her computer, her coffee mug and the Brothers, of course. A Minnesota native with her heart lost to Louisiana, she has a penchant for titillating tales featuring sexy men and strong women. When she's not writing, she's probably taking in a movie, reading or traveling. Her earliest reading memories are from grade school. She had a major fixation with horses, and the Black Stallion was a favorite. Then junior high came along and teenage hormones kicked in. It became all about the Harlequin Romances. She has been hooked on romances ever since. You can find V.A. at these links:
V.A.'s Website
V.A. on Facebook
V.A. on Twitter
Giveaway
Each month V.A. holds a Giveaway. This month's prize is a signed copy of Cade, the first book in the series!
Check out the link below to go to V.A.'s website and enter the Giveaway!
This tour is brought to you by

Please check out the other hosts on the tour for chances to enter the Giveaway!
August 26 -
cheshirecatlookingglass.com
August 27 -
http://danielledevor.wordpress.com
http://kenowinsky.blogspot.com
August 28 -
http://genevievedewey.com
http://pennyforthemuk.com/search/label/tour
August 29 -
www.pjfiala.com
August 30 -
http://www.simplyali.com
August 31 -
inthepagesofagoodbook.com
September 1 -
http://sallyawolfreads.blogspot.com/
September 2 -
http://fit4amom.blogspot.com
September 3 -
http://www.busymomsbookreviews.blogspot.com/
September 4 -
http://blog.amylkessler.com
http://booksbyagmoye.blogspot.com
September 5 -
http://www.christophfischerbooks.com/
September 6 -
http://mythbehaving.com/
September 8 -
http://maerwilson.com/
September 9 -
http://delphinareadstoomuch.com
September 11 -
http://www.krisandvikbooktherapycafe.com
September 12 -
http://dealsharingaunt.blogspot.com/
September 15 -
ellysharday.blogspot.com
http://www.twinsietalk.com